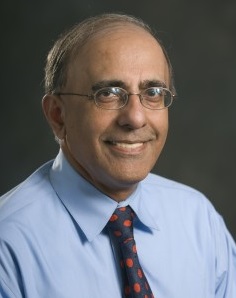 Ramani Narayan | Professor | Chemical Engineering and Materials Science, Michigan State University
Dr. Ramani Narayan studied Organic Chemistry at Bombay University, receiving his PhD in 1975. Since then he has become a distinguished researcher in the area of design and engineering of sustainable, biobased products, biodegradable plastics and polymers, biofibre reinforced composites, reactive extrusion polymerization and processing. He is currently a professor of Chemical and Biochemical Engineering at Michigan State University. He was named an MSU University Distinguished Professor in 2007. He also serves as the Scientific Chair of the Biodegradable Products Institute (BPI) and on the Board of Directors of ASTM International.
Dr. Narayan is a successful entrepreneur having been responsible for commercializing several technologies. He developed poly (lactic acid) materials technology and conducting engineering scale-up studies for Cargill Inc. The technology is currently being commercialized by NatureWorks LLC. He also developed biodegradable modified starch ester thermoplastics technology. He is also developing and commercializing technology for manufacturing new biopolyesters, and polyols that find application in polyurethanes and polyester resins products using vegetable and algal oil platforms. He is involved with setting up a biorefinery in conjunction with a Michigan agribusiness, Zeeland biobased products (www.zfsinc.com) producing advanced biofuels, biomoners and plastic products in addition to traditional food and feed products.