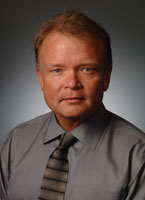 David Grewell | Iowa State University | USA
Teaching. Dr. Grewell teaches courses focused on manufacturing and with an emphasis on polymer processing, including process optimization, troubleshooting and modeling. He also teaches graduate classes focused on heat flow, fluid dynamics, material modeling and engineering fundamentals.    
Research. Dr. Grewell's research team works on the following main focus areas:
Bio-plastics: In this work, naturally derived proteins from corn and soybeans are  compounded and processed to form bio-degradable, bio-renewable polymers.  The research includes formulation, processing and application development.   
Bio-fuels: Based on the worlds need for green renewable fuels Dr. Grewell's team is developing and characterizing the use of high power ultrasonics to enhance  bio-fuels. Substrates ranging from corn to switch grass to soy-oils have been studied to enhance ethanol and bio-diesel fuels.   
Bio-Mass treatment. In this work, high powered ultrasonics are used to treat municipal waste to enhance treatment and methane production. This work also includes the treatment of animal waste.  
Micro-fabrication. In this work, novel techniques for micro-fabrications on polymer substrates have been developed. These techniques are used to fabricate "labs-on-a-CD"  for rapid, low costs frequent testing of various pathogens.   
Ultrasonic welding. Based on fundamentals, polymer and metallic welds are modeled and characterized. The goal of this work is to develop technology for aluminum cars, bio-renewable polymer packaging and environmentally consensus.