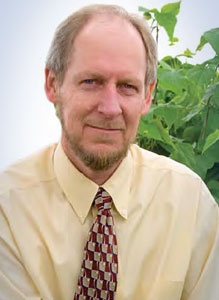 Peter Pauls | University of Guelph | Canada
Peter Pauls has 30 years of experience in university research and teaching and has held various leadership roles in the university and scientific societies. His research is focused on cellular and molecular studies of embryogenesis, pathogen-induced stress, agronomic trait expression in field crop plants, bean breeding and bioproducts. He has taught courses on Plant Biotechnology, Plant Tissue Culture, Plant Genetics, Advanced Crop Genetics and Molecular and Cellular Aspects of Plant Development.
Peter obtained his BSc from the University of Waterloo in Chemistry and Biology in 1976. He completed an MSc thesis on the membrane properties of an amoeba in 1978 at the University of Waterloo and a PhD on the biochemical and physical changes in plant membranes during senescence in 1981 in Waterloo. He worked on lipid protein interactions in UBC for two years and became a faculty member of the Crop Science Department of the University of Guelph in 1983. He is currently the chair of the Department of Plant Agriculture, which has 32 faculty, 100 staff members,110 graduate students and a research budget of over $18M/y. 
Peter Pauls has published 140 peer reviewed journal articles and has advised 37 Masters and PhD students to completion. He became a registered Plant Breeder in 2006 and has developed 26 dry bean varieties that have been supported for registration. More than 10 of these varieties are currently licenced for production in Ontario. He has disclosed a method for corn transformation, a description of soybean germplasm with enhanced oxidative stability and a DNA microarray consisting of 35 bean phenypropanoid pathway gene fragments to the Business Development Office at the University of Guelph. He is currently the principal investigator of a $11M Ontario Research Fund project entitled "Phaseolus Genomics for Improved Bio-Product Development" that includes sequencing the bean genome.